MES

sage from Virginia Foster, President of the H

RS.
Dear Fellow Rosarians:
On January 1st, with much anticipation, we welcomed in 2020, looking forward to a great year full of celebrations for the 40th anniversary of the Huronia Rose Society.
Little did we know then, the impact of COVID-19 and how it was going to change all our planning, meetings, discussions, and e-mails. However, all is not lost as we will celebrate in 2021 as 40 years plus 1.
Making quick decisions and quick changes of plans and venues has certainly kept all of us, on the board, on our toes. A prime example is our main fund raiser, selling roses at the farmers market in Barrie and Orillia. How can we make this possible in the middle of a pandemic or should we just cancel and try to recover any costs incurred to date? Lots of positive ideas were presented then both Michelle and Ligita kindly offered to work together and managed the job with great success. Michelle' s report is coming up that will explain, the what and how in detail.
On another related note, there was an article in the e-mail newspaper "What's happening in Barrie today" about the HRS selling roses during a pandemic. The article was professionally written and illustrated with beautiful photographs of the roses that were being sold.
Fame for a day!!
Many of us are feeling and will continue to feel the effects of this pandemic for a long time. We read about the cancellations of many important events daily and we have had to make some difficult decisions, therefore we have cancelled all meetings, including our annual rose show for the remaining year. Hopefully, 2021 will see a return to some form of normalcy and we can continue to get together and celebrate 40 plus 1.
Meanwhile, we should keep in touch with each other, those of you that have e-mail, please let us know how your garden is growing this year and include photos whenever you can. The same holds true for our members that would love to send us information by mail. More importantly we hope you are staying healthy and coping in a time that is challenging, difficult and new to all of us.
On a last note, Charlotte sent in this link to visit gardens in the Netherlands as garden tours are not physically possible this year. At least we can enjoy by electronic means.
Virginia Foster. President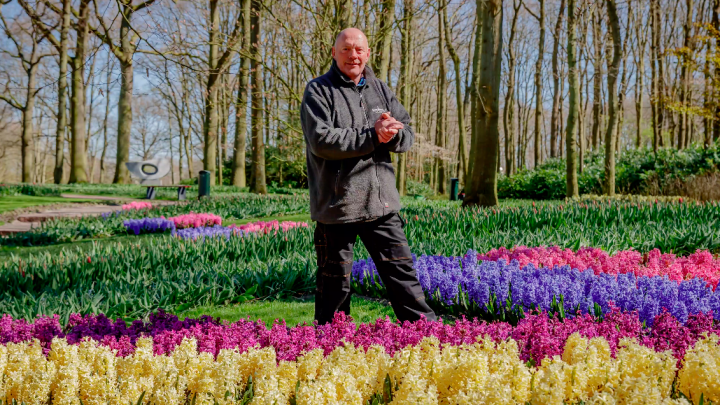 Huronia Rose Society Rose Sales 2020
What a unique and memorable Anniversary year for the Huronia Rose Society in 2020. The Fundraising Rose Sales also took a unique turn for 2020. Thanks to our website and new Facebook page we were able to continue with our Rose sales online. With no possibility of selling at the Orillia and Barrie Farmers Markets as done historically, we turned to social media to make it happen.
In April we had assorted Miniflora roses from Aldershot greenhouses in Burlington and bare root Austin roses from Hortico nurseries for sale. All pre-ordered online by customers and then picked up from the growers on Easter Monday. Customer Pick ups took place in the Georgian Mall parking lot in Barrie and the Home Depot parking lot in Orillia.
All done with social distancing protocols in place.
It was so nice to see fellow gardeners in person all excited about spring. In May the Ontario grown potted garden roses were promoted and pre-ordered online by customers, from all over Ontario – Ottawa, Mississauga, Cookstown, Angus, Barrie, Orillia, and Oro Medonte – amazing. A terrific article was written by Miriam King and seen in the Orillia Matters, Barrie Today and the Innisfil online newspaper- there was a fabulous response from the public for our Rose sale.
On May 21st, the roses arrived from JCBakker &Sons and were sorted by members of the Huronia Rose Society for the delivery to the pickup sites in Barrie. One in South Barrie at the Molson Centre/ Sadlon Arena parking lot and one at the Ferris Lane Community Church parking lot in north Barrie. Volunteers from the Huronia Rose Society helped organize roses on the sites and welcome our customers. Every customer arrived as prearranged to pick up their roses and drop off their payment in the money basket. Social distancing respected. Once again, visiting with fellow gardeners and sharing stories about roses was very enjoyable. Grandfathers who grew roses, fathers who budded roses, mothers who had amazing roses – "the seven sisters rose" – so many memories of roses. Orillia customers arrived Saturday morning to pick up their roses at my house and again conversations and garden walks were a lovely way to visit fellow gardeners. We sold 137 potted garden roses and 72 Miniflora roses and 31 bare root Austin roses in 2020.
An exceptionally good year.
Michelle Lynch
Photos courtesy of Michelle Lynch
Group for Barrie South pick up
Michelle Lynch and Lynne Melnyk
Photos courtesy of Edna Caldwell
In our society, we have this expression: To "go above and beyond the call of duty" and it means to do a lot more than you are required or expected to do for your job. If you break the expression down into parts, "go above and beyond" means to do more. "The call of duty" means "the things that you're asked to do for your job". (Wikipedia definition)
We would like to thank Michelle and her team that worked awfully hard to make the sale of roses a success. Without their efforts it would be exceedingly difficult for the HRS to continue as the sale of roses, is our main source of revenue. Way to go team Michelle!!!!!!!!!
PROGRAM UPDATE
As previously mentioned by our President Virginia, but worth repeating is the fact that all meetings for 2020 have been cancelled. The decision was exceedingly difficult for the board to make. At this time, city officials cannot determine what will develop over the next few months or even when public meetings will be allowed to take place. If COVID -19 does diminish and gatherings of 50 people can meet, the question is: would members even attend a meeting during these difficult times?
Therefore, we will celebrate our 40th anniversary in 2021 as 40 years plus 1
But watch for news either by e-mail or a phone call for some alternative activities for HRS members in the coming months.
MEMORIAL GARDEN UPDATE
There has been the usual spring work carried out at the Memorial Rose Garden, taking care to work at a distance from each other, only 2 or 3 members at a time.
The pruning took place, then fertilizing and 2 sessions of weeding to rid the garden of a very persistent, ground-hugging little weed. With the rains we have experienced the last week of May, watering is not a concern, presently.
Every time we are there, people says how they enjoy the garden, or stop to ask a few questions about their roses.
We have our 2 pamphlets on rose culture with us and our bookmarks to hand out if anyone wishes more information.
We welcome anyone who can volunteer to remove the dead blooms from last week of June to the end of August, once or twice a month.
For more information regarding the program or memorial garden, please call Edna at 705-721-0484
THE HURONIA ROSE SOCIETY CELEBRATES CANADA DAY, July 1st, 2020
CROSSWORD, CANADIAN HARDY ROSES
How well do you know your Canadian hardy roses? Have some fun and you could win a nice prize. Please complete the crossword and return to Virginia Foster by mail or email by July 31st.The address is 28 Meadowlark Road, Barrie, Ont. L4M 6E1 or vvfoster2@gmail.com
ACROSS
2. An English fur trader
5. Commemorates the100th anniversary of the red cross
8. Best known for his attempts to discover the northwest passage and his voyages to Labrador
11. A French explorer and cartographer
12. Known for his attempts to find the northwest passage from the Atlantic to the Pacific
17. An upper portion of the sun appears
19. His most famous undertaking was his exploration of the North Pacific coast of North America
21. Commemorates the 100th anniversary of Morden
DOWN
1. Is one of Quebec's most celebrated singer-songwriters
3. A pastel member of the Morden series
4. A Canadian artist, famous for paintings of western coast Indians
6. A Dano-Norwegian explorer/navigator
7. A large area of exposed Precambrian igneous and high-grade metamorphic rocks
9. Completed several voyages to find the northwest passage and discovered the Falkland Islands
10. An outdoors fire
13. A precious stone
14. An Italian explorer/navigator, 1497 voyage to North America where he claimed land in Canada for England
15. A key figure in New France history and was the governor of the colonyk
16. A new rose for the 49th parallel
18. Created to honour the women of the Canadian Navy
20. An English explorer/ navigator, best known for his explorations of the present-day Canada
Historical Gardens in Annapolis Royal
Hi Everyone,
Retirement is a time of major change in your life. For many retirees, one of those changes involves leaving their home and downsizing. My husband and I are Opticians and we decided the best year to start the next chapter in our lives would be the year 2020. A number that is extremely hard for us to forget as we have taught students for many years about how to improve a person's visual acuity.
The next decision was to research where to go? So, we travelled the Maritimes for the last five years searching for the perfect location. We found it, in the area of the Annapolis valley, Nova Scotia. For as long as I can remember my passion has always been gardening so I will continue to garden in my retirement and of course, grow roses!
Barrie has zone 5b, the Annapolis area is like Niagara on the Lake which has a zone of 6b and sometimes 7 depending on the map and if you are closer to the lake. Another interesting fact about the Annapolis region is annually they have 2 feet less snow than Barrie. Can you imagine my delight?
While in the valley we visited the Annapolis Historical Gardens and one of the most magnificent of the collections, by any standards, is the rose collection which has more than 270 cultivars, from ancient roses like the Apothecary Rose through to modern hybrids including roses of the Canadian Explorer, Parkland and Artist series'. With thousands of colourful and fragrant blossoms, it is the largest rose collection in the Maritime region.
It is with sadness that I leave Barrie and all my good friends in the HRS but I will be back several times a year, the pandemic situation taken into consideration. My email will remain the same and I will continue to be a member of a society that is near and dear to my heart. It is never good-bye, just see you later!
Janice
The Canadian Rose Society has had 3 teleconference calls since the beginning of 2020.
As a result, we have realized that in order to be and continue to be successful in this new decade, working together is key and as we move forward, we are finding that we have a great team. Secondly, we need to transform ourselves to deal with the future challenges that we may face as a National society beginning with improving our mission statement, logo and vision. We are still trying to plan an AGM for this fall investigating Zoom or an equivalent as we are in the digital technology era and we need to keep up. More information when available will follow including time, location and date.
Our current rose judging school report from Barb and John Munton informs us that as of the time you read this update 13 of the remaining students will have successfully completed all of Phase 3 of the course. All these students are eligible to challenge the final exam on May 30th,2020. The minimum passing grade is 75 and results will be released sometime in June. Good luck to all the candidates!
The CRS is also honored to announce two new members to achieve honorary lifetime status:
Both well known rosarians that have grown, educated and promoted Canadian hardy roses for decades.
CONGRATULATIONS to JUNE AND KEN
Huronia Rose Society Photographic Competition 2020 Results
Class 1: A photo of a garden with Roses (1 entries)
First: Willy Vanderpost
Class 2: A close – up photo of one rose bloom (8 entries)
First: Charlotte LeBoeuf
Second: Virginia Foster
Third: Ellen Spencer
Class 3: A close-up of a cluster of roses (any type) (7 entries)
First: Edna Caldwell
Second: Grace Kent
Third: Ellen Spencer
Class 4: A photo of a public Rose Garden (4 entries)
First: Edna Caldwell
Second: Ellen Spencer
Third: Grace Kent
Class 5: A photo of roses and a companion ( 2 entries)
First: Grace Kent
Second: Ellen Spencer
Class 6: A close-up photo of a Canadian rose (5 entries)
First: Charlotte LeBoeuf
Second: Ellen Spencer
Third: Edna Caldwell
Class 7: A close-up of an old English rose Austin (2 entries)
First: Edna Caldwell
Second: Grace Kent
Class 8: A close-up of a miniature rose (1 entry)
First: Virginia Foster
Class 9: A close-up of any rose (fully open) (7 entries)
First: Virginia Foster
Second: Charlotte LeBouef
Third: Edna Caldwell
Class 10: A photo of a rose bush/climber in bloom (4 entries)
First: Ellen Spencer
Second: Grace Kent
Third: Virginia Foster
BEST IN SHOW: Charlotte LeBoeuf
Number of entries 41, 2019/2020
BEST IN SHOW. CONGRATULATIONS CHARLOTTE!
Year 2020 Membership Form
( ) Single Membership – $15.00
( ) Family Membership – $20.00
( ) New Member or ( ) Renewing Member
Name(s)_______________________________________________________________
Address:_______________________________________________________________
No. Street City/Town Postal Code
Phone No: __________________ E-mail_____________________________( ) none
Please Note: This information remains with the Huronia Rose Society. Not for publication.
Membership includes:
4 meetings – Apr. July, Sept. & Oct. With guest speakers
Exhibitor status at our Annual Rose Show
Newsletters available via e-mail or postal mail
10% discount at Barrie's Garden Center (formerly Botanix)
Most importantly – the opportunity to learn all about Roses from fellow rose growers and our guest speakers.
Membership card
Please make cheque payable to the Huronia Rose Society
Please submit the membership form with your payment at a General Meeting OR mail to:
Huronia Rose Society
c/o Charlotte LeBoeuf
22 Florence Street
Barrie, Ontario
L4N 1X7